THE ILLUSTRATED APE
Established in 1998, features 100% original creative fiction, pictures, poetry, pop - and never, ever reviews! It has won popular acclaim, most notably the Creative Review 'Best In Book' award for design, and was one of only five British magazines selected for the Jam Anglo-Japanese exhibition. It is widely regarded as the most exciting and influential creative, illustration, graffiti, and writing magazine to come out of the British urban underground, and is a primary resource for anyone seeing insights into popular culture.
Famous contributors to The Illustrated Ape include:
Jamie Reid - the design king of punk, Julie Verhoeven - described in Taschen's modern design bible, Illustration Now as one of the world's top designer/illustrators, Paul Davis - award winning illustrator, John Lennon (previously unpublished work), David Hockney (previously unpublished work), Michael English, Martin Sharp - sixties design icon, Felix Dennis - OZ and MAXIM magazine founder and poet, David Sims - fashion photographer, Ryuichi Sakamoto - composer and film-star, Junko Mizuno (HELL BABIES) - manga artist and author, Jason Atomic - illustrator, Honey Manko - alt-diva, Heather Jones - songwriter and HOLE founding member, James Berry - poet, Michael Horowitz - poet, Tim Wells - poet, Cheryl B - New York feminist poet, and hundreds more acclaimed heroes of the pen and pencil.
SEND US your stories (1000 words), examples of illustrations and poems via email to info@theillustratedape.com.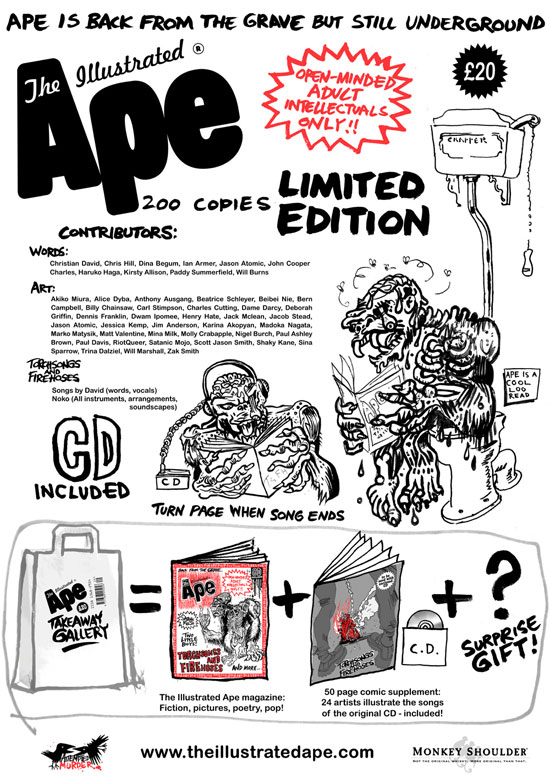 LATEST ISSUE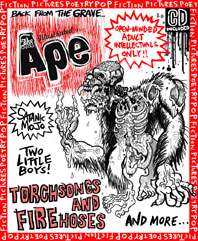 ISSUE 29
The Torchsongs & Fire Hoses Issue
Art directed by Jason Atomic & Honey Manko the new issue of THE ILLUSTRATED APE is currently in production. THE ILLUSTRATED APE returns this year as a limited edition of 200 and will launch in the first week of Dec 2012. The magazine will come in a printed TAKEAWAY GALLERY bag and will be accompanied by a 24 track CD "Torchsongs & Fire Hoses" written and performed by Christian David with music composed by Noko (of Apollo 440, Luxuria and Magazine fame). Ape will be printed with old-fashioned stencil duplicator technology in black and red on white, at Hurst Street Studios (which print Radiohead's limited edition record sleeves). Featuring an astonishing array of talent including Akiko Miura, Alice Dyba, Anthony Ausgang, Beatrice Schleyer, Beibei Nie, Bern Campbell, Billy Chainsaw, Carl Stimpson, Charles Cutting, Christian David, Dame Darcy, Debbie Griffin, Dennis Franklin, Dina Begum, Dwam Ipomee, Haruko Haga, Henry Hate, Ian Armer, Jack Mclean, Jacob Stead, Jason Atomic, Jessica Kemp, John Cooper Charles, Karina Akopyan, Kirsty Allison, Madoka Nagata, Marko Matysik, Mina Milk, Matt Valentine, Molly Crabapple, Nigel Burch, Paddy Summerfield, Paul Ashley Brown, Paul Davis, RiotQueer, Satanic Mojo, Scott Jason Smith, Shaky Kane, Sina Sparrow, Trina Dalziel, Will Burns, Will Marshall, Zak Smith!
UK: £20.00